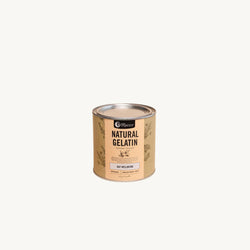 Nutra Organics - Natural Gelatin
Natural Gelatin is a versatile product that provides collagen protein with key amino acids for tissue building, repair and gut wellbeing. Made only from sustainably produced Australian bovine. 
Gelatin is a pure protein source, derived from collagen, containing amino acids that contribute to the building and repair of tissues within the body, including the gut.
Sustainably produced Australian bovine 
Supports tissue building and repair
Support gut wellbeing
Ways to use it
Single serve: Add approx. 1 tbsp. (10 g) to your liquid of choice (tea, coffee, juice) hot or cold. If you prefer, 'Bloom' the gelatin prior to adding to your liquid. 
To make a set gelatin: Use gelatin to make gummies and other treats.                                                   
220 Bloom count.
'Bloom' gelatin by adding approximately ¼ cup of gelatin (40 g) to ½ cup of water (1:2 ratio) and stir until an even texture is achieved.

Add bloomed gelatin to 250 mL of any hot liquid with your flavouring and stir until dissolved.

Pour into a mould and then refrigerate for at least 2 hours to set.
NOTE: Reduce the amount of gelatin for a softer set or increase for a firmer set. 
MAKES: 5 L of set liquid.